Compressed and classic haystack format
Our products are guaranteed French origin. The wide array of fodders offers a rich range of nutrition and flavor, which is the strength of our terroir production.
Our range of fodders is offered in all classic formats. With our automatic line the only one of its kind in France, we also offer 3 formats from 90x120x220 cm weighing 500 kg : the cut ball of 90x60x220 cm for 250 kg and two formats of CHC Calibrated High Compression bales, perfect for the export.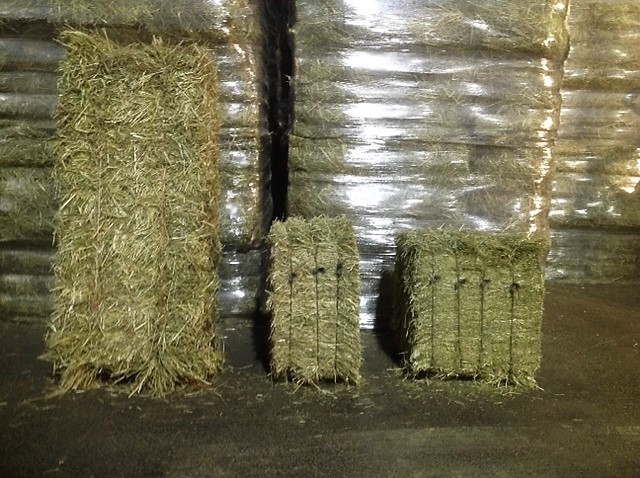 Classic Bale
2 twines
28 to 30kg
Nano CHC Bale
3 twines
20 to 23kg
High Compression Calibrated Bales ​ (CHC)
CHC BALES : High Compression Calibrated Bales
CHC Douliere Hay France bales are calibrated, compressed, palletized and filmed.
CHC bales of 40x45x50 cm weighing 35 kg
Nano CHC bales of 50x40x30 cm weighing 20 to 23 kg
Our different bales formats are bound using polyane string. Palletizing under film or netting.
This new product is delivered to you on a pallet of 24 to 48 bales by 25t truck or 40″ container of 25t
Our products in CHC bales offer consistent quality, are easy to handle and ration both as pallets and as highly compacted bales. The CHC bales offer the possibility of precisely controlling food quantities in order to guarantee food intake. Perfect for export.
Control:
At each stage, from production to storage, are practiced hydrometric controls. The lots that do not meet quality criteria are listed and downgraded. A sampling is carried out on each batch and analyzed by a certified laboratory. These data guarantee the accuracy of your rations.
Advantages
► Cuts storage space and transport in half
► Eases handling for small sizes from 40x30x50 cm or 40X45X50 cm.
► Guarantees nutrient preservation: the compression reduces the oxidation of the hay by removing the air.
► Better digestion: the compacted slices require smaller bites and increased salivation, which promotes slower digestive transit.
► Ease of distribution: maintained folds in bales for rationed slices.
► Grazing sensation maintained for greater enjoyment
Les balles classiques
Moyenne densité : 36/46/110, poids 30 kg
Balles matelas 50/80/220 poids 180 kg
Balles haute densité (HD) 70/120/230 poids 400kg
Balles haute densité (HD) 90/120/230 poids 500kg
Nos formats
Balles HD 90/120/220 p 500kg
Balles HD trancher en 2 = 90/ 60/220 pds 250kg
Balles compressées 40/50/ 90 pds 70kg
Balles chc 40/45/50 pds 30 a 40 kg
Balles nano 40/30/50 pds 25kg